A client called needing help choosing colors for a house they were moving into. They were doing some renovation and keeping some furniture from a previous home but basically we had a clean slate to work with. The client wanted a neutral palette.
The house was a side hall Colonial with large rooms and a nice flow from one to the other. Once we chose a color we would use it throughout the space with subtle changes here and there. The upstairs bedrooms, however, would have different colors suited to the needs of the family.
The house had lots of beautiful woodwork. The dining room was mostly paneled with lovely molding. In order to unify the look we chose to paint all the molding and woodwork in Benjamin Moore White with a soft semi-gloss finish. The ceilings were also painted white but with Wall Satin a flat paint.
The color we chose for the living room, den, and kitchen was Benjamin Moore AF90 Harmony, a soft neutral beige with a warm glow.
For the dining room, which was mostly painted white because of all the molding, we chose a slightly darker shade Benjamin Moore AF130 Truffle. This deeper color really makes the woodwork pop and gives the room a crisp, clean look.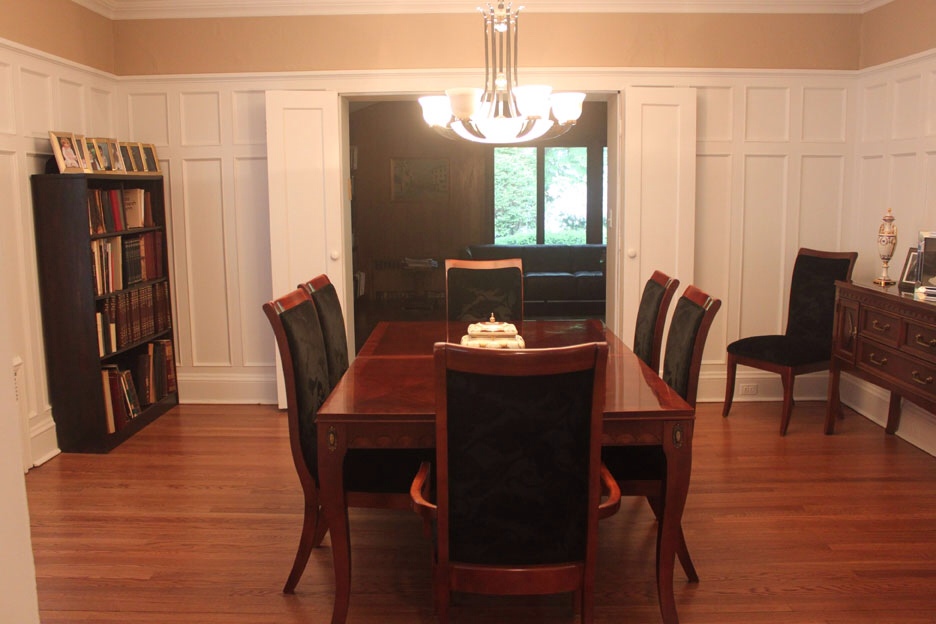 We used both colors in the entrance hall and stairway. We painted the chair rail white like the rest of the woodwork and this highlighted both colors, the lighter AF90 above and the deeper AF130 below.