The house had an open plan with rooms adjoining one another.  It was important to keep that nice open flow.  The living room was a huge space with a large stone fireplace as the focal point. The room was painted white with the fireplace wall painted a putty color. It was cold and uninviting.
The clients had not chosen furniture yet. We needed to choose neutral colors that would look good with whatever furniture they chose. We discussed what their preferences were, so that I would have an idea of what direction to go in.
In order to make the room more welcoming we chose a warm beige color that picked up the warm tones in the stone fireplace and the hardwood floors. Benjamin Moore HC26 Monroe Bisque was the perfect choice.
We liked the idea of painting the fireplace wall an accent color to make the space seem closer and cozy. A rich dark terra cotta color Benjamin Moore HC50 Georgian Brick was the right choice. Now this forbidding space had warmth and depth.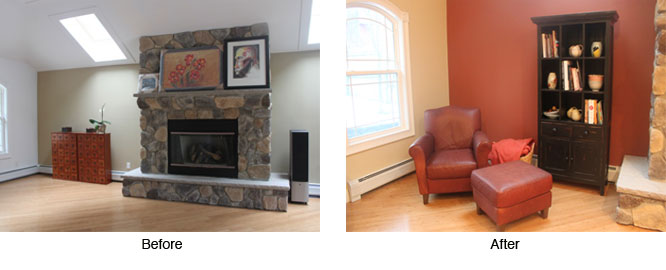 Opposite the fireplace was a white leather seating area that looked great with the wall color (HC26). This was the only furniture they were keeping. The white trim that was painted throughout the house compliments the leather couch and chair.
A small powder room off the living room was also painted the accent HC50. It is a vibrant color that looks great with the white sink and toilet.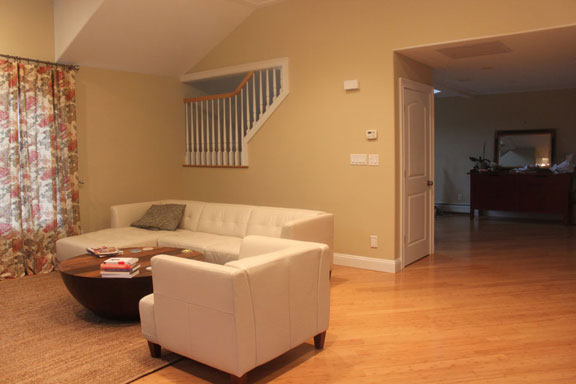 We continued using HC26 through the entrance area and the kitchen, which was really one large open space. However, we again chose one accent wall in the dining area, which is part of the kitchen. The same HC50 was painted on that wall.
The integrity of the open plan house was maintained by using the same wall and trim color throughout. But two large important walls that you see when you enter the space are accented in a rich deep color. This gives the eyes a place to rest and stop and visually makes the space smaller and closer.