Instead of just doing color consulting I helped a client design a blue and white bedroom from start to finish. She called me and explained that she wanted to redo her bedroom and didn't have a clue  where to start.
The space was a big room on the second floor of a private house. My first questions to her were what style and what color do you like. She was open to various styles but clearly wanted to decorate using blue. We looked at many photos of blue bedrooms mostly on Houzz.com the leading platform for home remodeling and design. What I realized immediately was that my client liked a medium to deep blue with lots of white.
We started with the bed. We decided to have the headboard and bedskirt custom made because we wanted to use the same fabric on both. She had a fairly new mattress and bed springs so we didn't have to purchase that. We ordered a queen size tufted headboard and matching tailored bedskirt in the same white velvet. The fabric was heavy and rich looking in pure white.
I found an old antique dresser and night table in another bedroom in the house that we would be able to use in this bedroom. So the style question was solved. The room would be an eclectic mix using both contemporary and traditional; pieces together.
The next purchase was an area rug. Continuing with a contemporary touch we chose a deep white shag rug which would feel wonderful underfoot. Since there were no children in the house keeping the white rug white was not a concern.
Before any furniture would arrive we had the room painted. There were so many shades of blue to choose from. The room did not get a lot of light so we didn't want to go too dark but we also wanted a color that had body and character.  We chose Benjamin Moore Summer Mist CC-906. The ceiling and all the trim was painted white.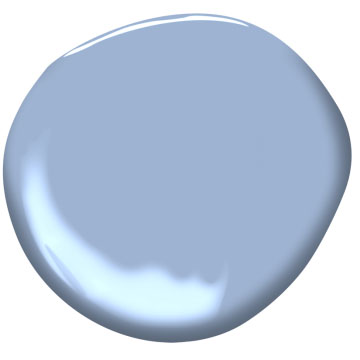 The room was large and we felt a need for a chair in one corner. The client enjoys reading and we thought a chaise lounge would be most comfortable. The chaise we ordered was traditional in style but had fabric in a pattern that was more contemporary with blues and grays. Again a mix of styles that worked together.
Window treatment was simple. We went with black-out Duette shades from Hunter Douglas that keep all light out of the room and sheer white textured curtains.
At the foot of the bed we placed a red lacquer Chinese chest bought on eBay that gives the room a much needed break from the blue and white. It's a place where your eyes can stop and see something different and decorative. It's also useful as extra storage.
Finally, we bought some pillows and a throw to bring the whole room together adding a bit of texture and warmth.
This was a fun project from start to finish and best of all the client is thrilled with her new bedroom.