Trim is the molding around doors, windows, floor, and sometimes ceiling called crown molding. It is also called woodwork.
Traditionally, molding is painted a light color, white or off white. If your walls are painted a deep color, painting the molding white will make the wall color pop and be a nice contrast. If your walls are painted a very dark color it is probably better to use an off white instead of a stark white. You don't want a blinding contrast just a nice gentle one. If your rooms open into other rooms and can be seen from one room to the next, using the same light color molding throughout is a great idea. It unifies the house. Even if the rooms are different colors the same color molding brings it all together.
In the bathroom above the white molding and trim makes the painted vanity pop. The purples and mauves stand out against the white.
In the study above designed by Anita Kinstlinger hentamk@aol.com the white molding and shelving enhance the room's gold and grey color scheme.
If you're hell bent on using a dark color on the molding, use it in a room that is not a public room, a study, or bedroom. Make sure the wall color is contrasting. For example, if your walls are white or off white try a light blue,  green, or grey for the molding. For an extremely bold look use a dark grey against off white or light grey walls.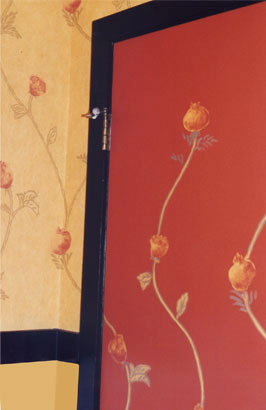 The powder room shown above has black trim to highlight the gold wall paper and painted red door. It is striking and lovely.
The colorful den above designed by Anita Kinstlinger hentamk@aol.com continues the red of the furnishings on the window and door moldings. This is a great use a dark color on the trim other than white.  It gives the room sparkle and makes it fun.

But let's talk about the molding itself. Emphasizing molding that is ordinary doesn't enhance the room but calls attention to lousy molding. For example, crown molding that is only 2 or 3 inches wide without any decorative element is nothing special. Why call attention to it?  If your room has interesting architectural elements, bringing them out by painting molding a crisp white or off white is a great idea.