Using wide horizontal stripes in similar colors but different finishes is a great choice to add sophistication and subtle depth and dimension to a room. A client with a bathroom that had old subway like tiles in a creamy yellow color wanted to do something interesting with paint in her bathroom. The trim tile was black.
We thought that keeping the color palette for the walls the same as the tiles would enhance the old world feel of the room and create a quiet calm effect. Choosing a color to match the tiles was the hard part. We couldn't just take the tile to a paint store and have the computer duplicate it. Using Benjamin Moore color samples I looked at various colors at different times of day to determine which one was the perfect match. I chose Benjamin Moore OC-112 Golden.
Once I had that we painted the room with flat paint. The woodwork in the room was painted the same color but in a semi-gloss.
Now for the stripes. We wanted to use a similar color slightly darker. We wanted a very subtle change in color. The drama would be using a pearl finish for these stripes that would contrast with the flat paint of the background. I chose Benjamin Moore 2152-50 Golden Straw in a Pearl finish.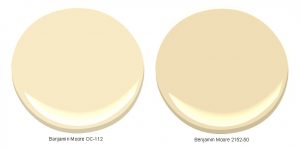 The decision to make horizontal stripes instead of the usual vertical was to make the stripes stand out by using them in an unconventional way. Making them 8″ wide also made them stand out as being unique not ordinary. What a rich effect this had on the whole room.
Using the black trim tile as the accent color we finished the room with a black shower curtain, black and ivory towels, and black frames for the artwork. The room says, "Wow".