A client wanted to paint her guest bedroom and didn't know what to choose. We decided on a pale blue for the guest room. This is how the decision was made.
She had dark cherry wood furniture in the room. She wanted to use white linens on the bed. We were going to keep white on all the trim in the room because we had used white trim throughout the house. It was an older house with beautiful wide molding. There was also a chair and ottoman in a deep navy blue in one corner. The client wanted a light airy feeling for the room.
When I suggested a pale blue the client was hesitant. She did not want the room to look like a boy's room. She told me it should feel like an oasis of calm and quiet. When we looked at colors she realized that the pale blue I was talking about was not at all for a child's room.
We chose Benjamin Moore Whispering Spring 2136-70. It is a light color, almost white with a hint of blue.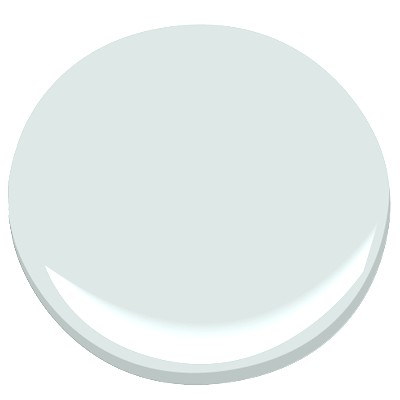 After the room was painted she found a duvet cover in the same hue that she loved and looks great in the room. Now all she needs is some art on the walls. She is thrilled that the feeling of light and airiness was accomplished.