This was new construction for a large formal Colonial style house. It had wide crown and floor molding throughout and wainscoting in the entrance hall and dining room. We wanted a unified, bright, crisp, clean look for all the molding throughout the house. We chose Sherwin Williams 7006 Extra White in a semi gloss finish. It is a soft white without any yellow tone. It looks great next to all the colors we chose for the rooms.
Upon entering the main hall you saw a beautiful curved staircase. The clients wanted a warm inviting feeling when you came in. This hall led to all the other hallways in the house both downstairs and upstairs. We wanted to use a neutral color that would look good with the colors we would choose for the other rooms that came off the hallway. But we didn't want the space to seem blah. We wanted a color with some oomph because this was one of the largest areas in the house.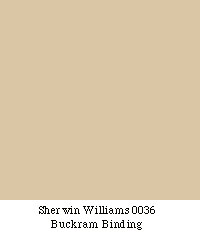 We chose Sherwin Williams 0036 Buckram Binding. It is a warm gold color that has enough pigment in it to not disappear or become invisible in the space.
When you entered the house the living room was off to the right. It had a tiled fireplace mostly gray with touches of beige and gold. The clients had ordered a grey couch. We didn't want to use the same color that we used in the hall so we chose a more beige color that looked fantastic with the fireplace tiles and echoed the hall color. We chose Sherwin Williams 7536 Bittersweet Stem.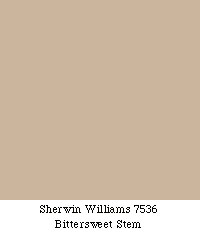 The clients wanted to paint the dining room green. I'll talk about that room at another time but here is a  cross view from the dining room through the entrance hall to the living room. You can see the nice flow of colors from one space to the next. The dining room was painted with Benjamin Moore 2144-30 Rosemary Sprig.